Curriculum Approach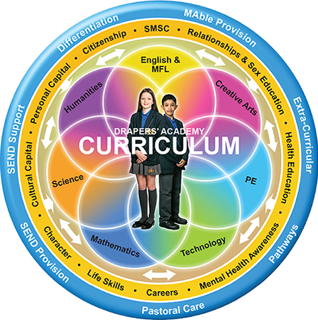 Our curriculum is designed to support all pupils to achieve the very best that they can; to provide opportunities for each pupil to develop their interests and capabilities in sport, art, drama, music and community affairs, so that they become well rounded people and global citizens. Our curriculum is designed to celebrate diversity, promote tolerance, inclusiveness, and kindness, to assist pupils in achieving their full potential so that they can lead a full and enriching life.
All of our subject areas have a clear core purpose beyond the National Curriculum or Exam Specification, and staff have planned the learning journey that pupils embark upon so that their skills and knowledge progress and that cross-curricular links are formed; allowing them to see the connections and diversity in the world around us. Our subjects, therefore, cross over one another and complement one another, helping to shape the individuals that it serves.
Enhancing our subject curriculum, is the surrounding circle, developing pupils' character, emotional and social well-being, cultural and personal capital and life skills, which are developed not only in the classroom but also through our tutor and careers programs, and planned visits. Lastly, an outer circle of tailored support, interventions and extra-curricular activities enable the needs and enrichment of all pupils to be enhanced, so that they all have access to a broad and balanced curriculum that develops them into well-rounded individuals that are equipped to succeed in life.
---
Curriculum at Drapers' Academy
In KS3, all pupils are taught in mixed ability sets, with the exception of Maths, Science, English and MFL. At the end of KS3 pupils are allocated into high-challenge pathways. We operate a one week timetable with one hour lessons. All subjects are broken down into a series of mastery statements using our online system DPR (Dynamic Progress Reporting), which when fully achieved will lead pupils to making exceptional progress. Students are encouraged to interact with these mastery statements regularly and they form the basis of all reports and are shared with parents. The aim is to focus student discussion on learning outcomes and not behaviour. The Arts and technology subjects are valued and as a result, all pupils participate in art, drama, music and all three disciplines within Design Technology throughout their three year KS3, before choosing and commencing their KS4 options.
In order to raise the aspirations and life chances of children in Harold Hill, we have a purely academic Sixth Form, consisting of A Levels only.
The Year 7 – 9 (KS3) curriculum model is set out below:

The Year 10 – 11 (KS4) curriculum model is set out below:

We offer a range of option subjects at KS4, in addition to compulsory subjects: Maths, English Language, English Literature, and Combined Science.
GCSE options include: Art, Business Studies, Geography, History, Religious Studies, Drama, Graphics, Textiles, Resistant Materials, French, Dance, Triple Science.
We also offer qualifications in the following: Level 1/2 Designing the Built Environment, Prince's Trust Achieve Programme, AQA Unit Awards, Level 1/2 Food and Catering, Level 1/2 Information Technologies, Level 1/2 Music, Level 1/2 Physical Education, Level 1/2 Child Development
---
The Year 12 - 13 (KS5) curriculum model
Most students select three to four A Levels from one of five blocks. Each subject receives five hours of curriculum teaching per week. In addition to this, all pupils are offered the opportunity to participate in the Silver and Gold Duke of Edinburgh awards and to develop their own independent research and study skills through the EPQ over the course of their two years at the Academy. In free periods, students are encouraged to study MOOC's (Massive Open Online Courses) and to participate in various volunteering activities, organised by staff. Undergraduate Preparation (UP) sessions are also scheduled regularly to enrich students, covering areas such as PSHE, SRE, Citizenship and British Values. A range of speakers are invited in to deliver stimulating sessions.
A Level options include: Biology, Chemistry, Physics, Law, Product Design, Psychology, Drama, Maths, Further Maths, Sociology, Government and Politics, Geography, History, Art, English Literature, Economics.