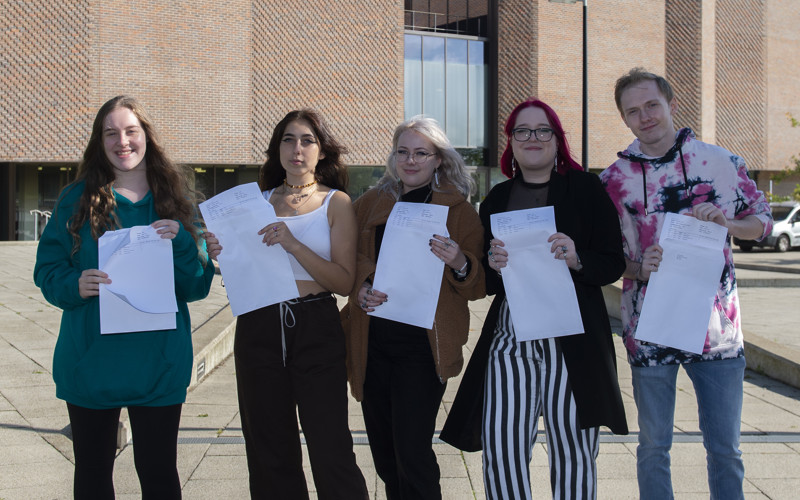 10th August 2021
School News
After a very challenging 17 months of Zooms, Looms, isolation and face masks we are delighted that our Year 13 students have been achieved some very well-deserved results. No other Year group has ever had to face such rigorous and demanding assessments and I am pleased to see that their determination and resilience have been justly rewarded.
I am are pleased to see so many students are following their dream to go to university, despite the uncertainty of the first term. The majority (89% ) of our Year 13 students continuing their academic studies at university.
We pride ourselves on the outstanding academic outcomes of our students and the excellent progress they make. Some exceptional performances include:
We are delighted to see another student gain a place at Cambridge University. Jorja Korosec has gained a place at Queens College to read History. She completed her A Levels in History, English Literature and Sociology as well as an EPQ.
We have three students that have gained the highest grades possible (A*) in all their subjects. This is a reflection of their dedicated approach to their studies and a fantastic work ethic. All of these students have been members of the Academy since Year 7 and are all following a route into the sciences. Eliie Ingle studied Biology, Chemistry and Art. She will be joining University College London to study Applied Medical Sciences. Holly Barry has gained a place at Warwick University to study Physics with Astrophysics following her A Levels in Maths, Physics and Biology. Victoria Porter is also going to Warwick University to study Chemistry with Medicinal Chemistry after gaining her A * grades in Biology, Chemistry and Psychology.
We are also delighted that 3 students continue to join our sponsor university Queen Mary, University of London. Katie Bills and Shanti Mason have a place to study drama and Lillie Brown will continue her studies in Geography.
Drapers' Academy principal Darren Luckhurst said: "I have been totally amazed by our students who have shown such resilience. Their determination to succeed is shown through the fruits of their labour.
"I have some excellent staff here who put their heart into teaching and have taken on extra work as well as continuing to teach other school years."
"Many of our students have parents who work in the care sector or the NHS so often had to help homeschool other family members, and hold down part time jobs. They worked so hard to achieve their results."