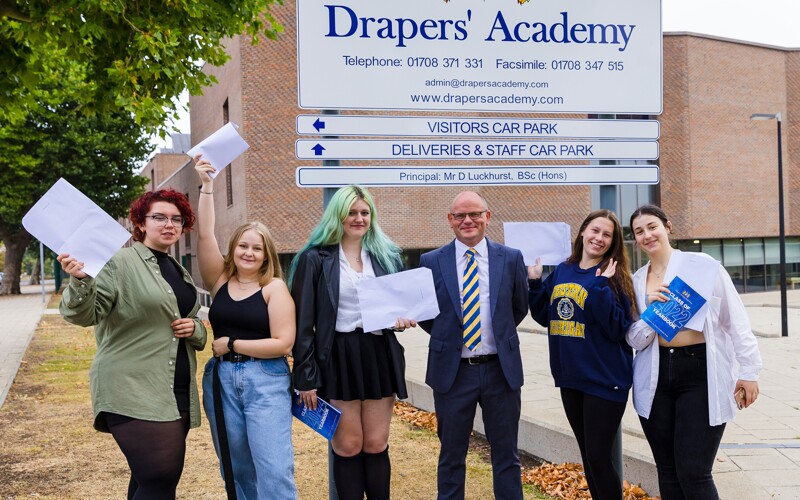 18th August 2022
2 Categories
School News
Celebrating Success
Our staff are delighted and exceptionally proud of the A Level results achieved at Drapers' Academy this year. Students have been on an academic roller coaster, having a chaotic few years interrupted by Covid. They have needed to be resilient and rigorous in their approach to their studies. Due to their hard work, fortitude and application to their studies, our students have secured excellent grades and over 80% are continuing their academic careers at university.
Some notable results include;
Zipporah Ejemai who achieved three A grades in Biology, Chemistry and Physics and will now be studying Medicine at our sponsor university, Queen Mary University of London.
Mariyam Khan achieved A grades in Economics, Psychology and Sociology and will now read Sociology and Politics of Science at UCL (University College London).
Adam Olojede also achieved straight A grades in Business Studies, Economics and Psychology and will move on to read Economics and Management at Aston University.
Despite only picking up Business Studies in April of Year12, Alex Scott achieved A grades in Business Studies, Geography and Psychology and will now read Computer Science at Queen Mary University of London.
Rusne Skrupskelyte achieved A*, A, B in her A Levels and will now take a gap year prior to starting her studies at university in 2023.
Two students who joined Drapers' Academy in 2020; Katie Cole and Michael Dillon, have both achieved A*, A B in their subjects and will continue their studies in London. Katie will be studying Psychology, Clinical Psychology and Mental Health at Royal Holloway University of London while Michael will attend Queen Mary University of London to read Business Management.
Darren Luckhurst, Principal at Drapers' Academy, "after what has been a turbulent two and a half years for our students I am so pleased that their resilience stood them in good stead to achieve such great results. Their grades have enabled them to progress to universities and apprenticeships of their choice and this is the most important thing. I congratulate each and every student for all they have accomplished and I am so proud of the work effort they put in to ensure they achieved the grades they deserved. They all have bright futures ahead of them and in due course look forward to hearing about their next achievements."
Drapers' Academy Sixth Form – Ten Year Anniversary
2022 commemorates the 10th year of the Sixth Form at Drapers' Academy. Our goal then was to provide an academic education for the students of Harold Hill and across Havering. These results demonstrate that with dedicated and experienced staff, coupled with the academic and professional support from the Drapers' Company and Queen Mary University London, we have achieved this goal and we look forward to enhancing the life chances and social mobility for future students who wish to apply to study A Levels at Drapers' Academy.
Drapers' Academy Sixth Form Alumni
An initiative that we are establishing is working alongside our Alumni to support and advise our students. It is gratifying to see that our first ever Head Girl has now completed her PhD in Antibiotic Resistant Bacteria at Birmingham University, whilst our first ever Head Boy works in New York for a recruitment company.
We encourage all of our past students to contact us and share their career pathway so that we can provide you with any support you require and also to see how you can support our current students.
Please contact the Sixth Form at admin@drapersacademy.com we would love to hear from you.